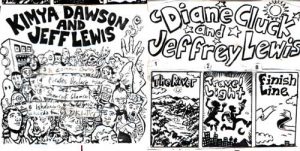 (compiling the 5-song 2001 Jeffrey Lewis/Kimya Dawson collaboration CDR with the 3-song 2001 Jeffrey Lewis/Diane Cluck collaboration CDR) (This compiled version was first released fall 2002)
All 8 recordings from the Kimya/Jeff and Diane/Jeff CDRs on one CDR. "Finish Line" is a better mix than the version on the Diane/Jeff CDR. First pressing of 100 had extra track "808", a collaboration by Major Matt Mason and Mike (Prewar Yardsale) Rechner. At least 300 of these have been made and sold; a few dozen were also made and sold by the Rough Trade Record Shops of London.
Tracks (order is as of the third pressing):
1) The River (Diane/Jeff)
2) Travel Light (Diane/Jeff)
3) A Common Chorus (Kimya/Jeff)
4) Pirates Declare War (Kimya/Jeff)
5) Shamrock Glamrock (Kimya/Jeff)
6) Ishalicious (Ish Finds His Family) (Kimya/Jeff)
7) Klutter (Kimya/Jeff)
8) Finish Line (remixed version) (Diane/Jeff)

Earlier Versions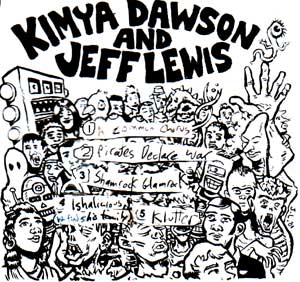 5 songs written and recorded onto boombox by Kimya and Jeff. Pressed onto CDR in summer or fall 2001, maybe 50 copies made/sold. Later included as half of the "Antifolk Collaborations Volume 1" CDR.
1) A Common Chorus
2) Pirates Declare War
3) Shamrock Glamrock
4) Ishalicious (Ish Finds His Family)
5) Klutter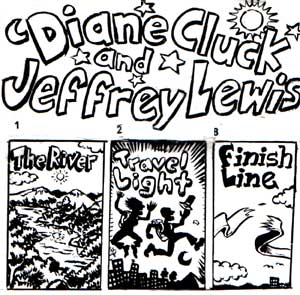 DIANE CLUCK AND JEFFREY LEWIS (Summer/fall 2001)
Now available at JeffreyLewis.BandCamp.com
3 songs written by Diane and Jeff in Maine, recorded by Spencer Chakedis at his "Balloon Heaven" home studio in Brooklyn. A few dozen CDR copies were made and sold, then these songs became half of the "Antifolk Collaborations Volume 1" CDR.
Tracks:
1) The River
2) Travel Light
3) Finish Line (unmixed version)